As we specialise in the manufacturing of high-end diamond optical components, we like to show what we are capable of:
Cylinders; Together with the square plates, the simplest design we can supply you with. Dimensions vary from a diameter of 0,50mm to 8,0mm with a thickness of 5 microns to 2,0mm.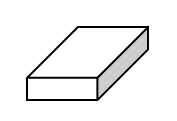 Plates and blocks; A simple generic design that we can manufacture for you. The dimensions range from 0,5mm by 0,5mm to 7,0mm by 7,0mm with a thickness going from 5 microns to 2,0mm.
Prisms; A more complex design is our prism. The prisms we produce can be square or round based, hexagonal or parallelepiped. They come in size up to 6,0mm by 6,0mm and 5,0mm in height.